About our Lab
After opening Miller Dental Implant Lab, it didn't take long to recognize that dentistry was rapidly changing and that doctors needed an educated laboratory  that could:
Keep them up-to-date on the latest materials
Teach them about the application of these new materials
Provide support in how to bond and cement these materials
In response to this need, Neil Miller dedicated himself to achieving the most premier hands-on education available. As a result, Miller Dental Implant Lab became one of the first labs in Kentucky to obtain the IPS Empress all ceramic pressing system, and Neil himself became one of the first technicians in Kentucky to attend the Las Vegas Institute for advanced dental studies, and the first technician from Kentucky to be honored as a master dental technician from that same institute.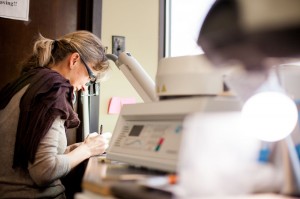 Following up on that same standard of excellence, Miller Dental Lab was one of the original group to invest in the amazing eMax all ceramic system, as well as the CEREC inLab milling system for creating in house zirconia frameworks (which is proving most beneficial in these days of escalating PFM gold alloy prices). In addition, Neil has studied and mastered all of the relevant occlusion philosophies and has the ability to assist in treatment planning even the most difficult full mouth reconstructions, and can share a proven system of prep, temporization, and delivery of your reconstructive and cosmetic cases.
Over the last few years, it has been Neil's passion to recruit and train the most talented technicians in the area so that we can make our systems for restorative success available to more dentists. Every technician currently employed in our laboratory is a Certified Dental Technician.
About our Approach
Our approach is to eliminate all guesswork in the implant restorative process by beginning with the end in mind (in other words, a restorative-driven approach). This means that each implant case is scanned into the computer and the desired restoration is designed to its final form. From this design, the file is split, and the software automatically places the abutment in the ideal position and of the maximum volume inside the crown. The result is an easy to seat, highly esthetic, and extremely well supported crown.
There are several advantages to this restorative driven approach:
All guesswork is eliminated and excellence becomes routine and predictable
Implant "parts confusion" is eliminated for the dentist and handled by the lab
The fee is all-inclusive making treatment planning for the dentist much less complicated
After just a few cases with Miller Dental Implant Lab, you will see just how easy and profitable modern dental implant dentistry can be!